Spam Filtering and Malware Protection for Businesses
Don't let annoying floods of spam emails get to you. Spam and viruses don't stand a chance against the best email spam filter on the market.
What is spam? Representing over 50% of all email traffic, spam is the most intrusive method cyber criminals use to introduce malware and viruses into corporate systems. But in additon to the danger of infection with ransomware, spyware or a cryptominer, important workflows can also be interrupted by the annoying flood of unwanted spam emails.
Why is a cloud-based spam filter so important for businesses?
Most-effective protection against spam and malicious emails
Pulse8 Email Spam Filter and Malware Protection Service offers the highest detection rates on the market, with 99.9% guaranteed spam detection and 99.99% virus detection. Our Spam Filtering Service effectively protects mail servers against DDoS attacks and phishing emails. Our multi-layered spam filtering service blocks the majority of spam emails as they arrive—keeping the quarantine clear and easy to manage. With proven features and thorough spam filtering mechanisms, your inbox remains free of annoying spam emails.
50%
of Global email traffic is Spam
1,000,000
New Malware threats are released every day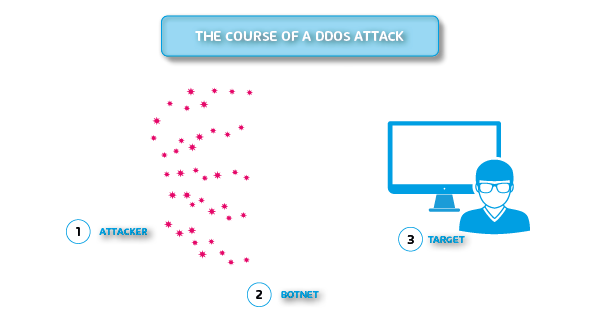 Risk of DDoS attacks – Protection through email cloud security
The abbreviation DDoS stands for Distributed Denial Of Service. A DDoS attack is a type of DoS attack in which multiple hijacked systems are used to overload system resources or network bandwidths. This makes websites and online services unreachable. For companies, this often means large financial losses due to delivery bottlenecks, for example, and major damage to their image from the perspective of customers.
DoS attacks are intercepted by Pulse8's Hosted Spam Filtering and Malware Protection long before they reach the customer's network. Parallel infrastructure distributed across multiple data centres and intelligent protection mechanisms ensure that authorised mail traffic continues to flow even in the face of massive waves of spam emails and DDoS attacks.
Phishing attacks continue to be widespread
A phishing attack is a digital identity theft. Hackers send fraudulent emails which, for example, imitate the look of well-known online service providers such as Amazon or PayPal or of well-known banks. If the personal data requested is entered on the phishing website, it is sent directly to the cyber criminals.
With the help of link tracking and other techniques, the spam filter service effectively protects users from phishing emails. Among other things, reloadable malicious script commands are detected. This enables detection of dangerous drive-by downloads, for example.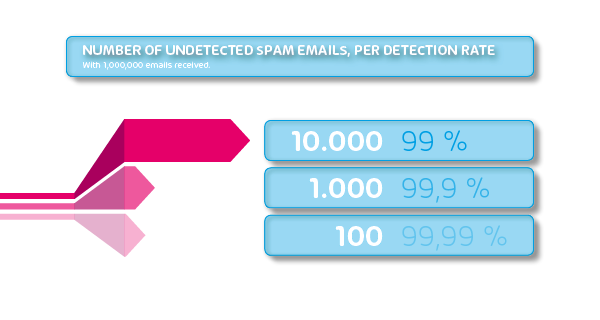 The demands on IT administrators are growing
IT systems are becoming increasingly complex. Attacks on IT security are more frequent and more intelligent. Legal and regulatory requirements are increasing. At the same time, IT is becoming ever more closely intertwined with a company's business, accompanying and supporting core processes. Spam and Malware Protection is a fully managed solution: Pulse8 is responsible for management, operation and monitoring (availability: 99.99%, availability class 4, contractually guaranteed).
All information necessary for IT administrators is easy to find and clear, settings can be configured quickly with minimal effort.
Hosted Spam Filtering and Malware Protection at a glance – The Best Protection for Your Email Traffic
Infomail Filter
Newsletters that are not classified as spam and other infomails that unnecessarily interrupt your workflow are filtered out and kept for later retrieval. They can be released in the individual email Quarantine Reports.
Data Encryption
Encryption of the transmission path between mail processing systems of Pulse8 and the customer's email system via TLS which prevents third parties from spying on email data during transmission.
Link Tracking
Incoming and outgoing emails are automatically scanned for malicious URLs. This prevents a user from clicking on a link to an infected page, downloading malware, or forwarding malicious links.
Phishing Filter
With the help of link tracking and other techniques, the spam filter service effectively protects users from phishing emails.
Auto virus updates
The virus filters are constantly updated and always current. Our own scanner, which specializes in viruses spread by email, is used among other things.
Outbound Filtering
Outgoing emails are also checked for spam and viruses to prevent the unintentional distribution of malware and spam emails from within your organisation.
Bounce Management
Bounce mail is the term used to describe messages automatically generated by mail servers that inform you about the absence of users or delays in delivery of emails, for example. Real bounces are useful. But bounces that reach a user because sender addresses have been forged are a problem. Pulse8 Bounce Management ensures that only genuine bounces reach the recipient in incoming mail traffic. Bounces in response to spam with fake sender addresses are reliably filtered out.
Virus Detection
Dynamic virus outbreak protection ensures new and previously unknown viruses are stopped by the early warning system. Pulse8 Email Security platform continuously analyzes and filters out incoming mails to so-called honeypot accounts (email addresses that are only intended to receive spam) for unusual attachments, links, senders or content. Derivation of signatures from this occurs within a very short response time, typically less than five minutes.
Spam detection
In addition to spam blocking, incoming emails must pass through multiple filter stages before they are either recognized as authentic emails and delivered to the customer's mail server or placed in quarantine. The user can view quarantined messages through the Quarantine Report or on the control panel. Guaranteed 99.9% spam detection, less than 0.00015 false positives per clean mail, and 99.99% virus detection guaranteed by 18 independent virus and phishing spam filters.
Spam Filtering and Malware Protection – The easy way to observe compliance policies & regulations
Compliance Filter
Create specific rules for automated application to inbound and outbound email.
Audit Logs
Logins and changes to the control panel are logged indelibly and can be viewed by administrators.
Content filter for file attachments
Unwanted attachments can be rejected or quarantined. Adjustable content filter for unwanted attachments, protection against malware and enforcement of company policies. Adjustable size limitation of emails protects against impairment of the mail server and mail traffic due to excessive data volume.
Standardised SLA for availability and filter performance
The Service Level Agreement (SLA) describes the performance characteristics of the service, including the scope, quality, feedback from support and handling of a request within a specified time frame.
Integration of Pulse8 Hosted Spam Filtering and Malware Protection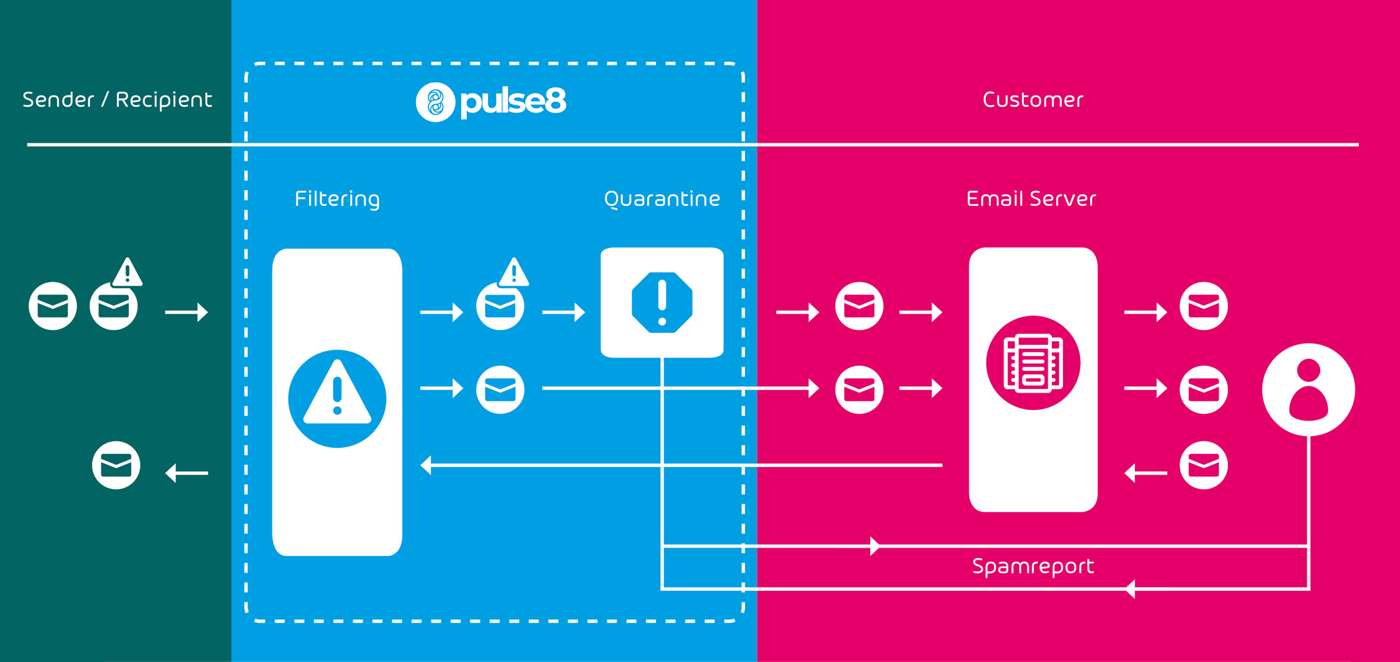 Incoming emails go through two stages.
The majority of spam emails are rejected at the blocking stage. The remaining emails move on to active analysis, where the email stream is cleaned by a variety of filter rules.
The quarantine allows the user to check individual emails for which the classification is unclear.
Ask about Spam Filtering and Malware Protection now
Any Questions?
Call Us on 0800 042 8888